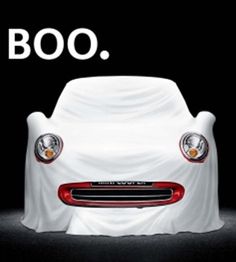 Dressing up for Halloween is a tradition here at Fiat of Edmond. On Halloween we typically see witches, ghouls, Harry Potters and a Marvel character or two. If you want your fun to last a little longer than one night, you should try dressing up your car to celebrate too, especially if you have a cute Fiat. 
Some of the best Halloween car decorations are the simplest. Here are our favorites.
Make your car a spider's paradise. 
This is a car-stume that anyone can do. Get some fake web from your favorite store, and secure it to the car. You can add some fake spiders to complete the effect. This is the car-stume for those who like things simple. And it's pretty believable, especially if you happen to have a Fiat 124 Spider. 
Is that a body part? 
If you like subtleties, hang a random hand, leg, arm or head out of your trunk and drive around. It's sure to garner some attention. Just don't make it too believable, or you may wind up pulled over on suspicion... of being awesome at being scary. 
Feeling gore-ish? Try red temporary paint. 
This is for the artist of the group who is really looking to make a statement. Take red washable paint and design your car to look like it has seen a few blood puddles. People will be wondering if you're Daisy Buchanan. 
Do you happen to have a green car? 
Frankenstein's monster is your car's Halloween calling, obviously. You can create silver covers for the side mirrors to replicate Frankenstein's creation. 
These are quick and easy ways to make your car fit this week's Halloween theme at the last minute. Whether it be for fun or for an event like a trunk or treat, your car will be a hit. 
Happy Halloween from Fiat of Edmond!